Employee Engagement and Career Development: 2014
September 24, 2014
Employee Engagement and Career Development
At this point, no one needs to argue that employee engagement is vitally important to organizational success. In fact, according to Deloitte's 2014 Global Human Capital Trends research, 78% of business leaders rate retention and employee engagement as an issue that's "urgent or important". (Source) However, it's evident that we're still not understanding what it actually takes to engage employees.
Take this statistic, for instance: a recent 2014 CareerBuilder survey found that while 18% of respondents said they were generally dissatisfied, 58% said they plan to change jobs this year. (Source)
That's a lot of people changing jobs.
So what do employee engagement and career development have to do with each other?
A Balanced Company Culture
The following graph is from Aon Hewitt's "2014 Trends in Global Employee Engagement". You can see that North America is up two points since 2013 at 65%. Although this is a positive move, we still have a long way to go.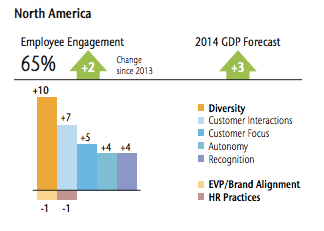 In looking at the data, a big part of this increase corresponds to an increase in diversity. However, the decrease in HR practices to support the cultural shift in organizations that accompanies an increase in diversity – at any level – is worrisome.
Likewise, there were gains in both autonomy and recognition – but a decrease in brand alignment offset these gains. This is a problem when 33% of respondents to a July 2014 ThoughtLeaders poll indicated that their mission and vision statement is "full of meaningless buzzwords, or we simply don't have one" or is "not clear and it's hard to rally behind."
It's important that we approach the issue of employee engagement holistically and from a balanced perspective, rather than latching on to one contributing factor we have determined to be the problem, and focusing on it to the exclusion of everything else.
Employee Engagement and Career Development in Your Organization
In a 2014 Gallup study of 32 "exemplary" companies where engaged workers outnumbered disengaged workers 9 to 1, they found that these companies had seven practices in common with each other. One of them, unsurprisingly, is HR people who teach leaders and managers to develop employees within the organization. Others main factors include:
Involved and curious leaders who want to improve
Trusting, holding accountable, and relentlessly supporting managers and teams
Meeting basic employee engagement needs
Never pursuing employee engagement for the sake of employee engagement
Similarly, Forbes released an article that states what they believe to be the three key drivers of employee engagement:
Relationship with immediate supervisor
Belief in senior leadership
Pride in working for the company
Finally, ATD's "What Drives Employee Engagement? It's All About the "I"', focuses on the forces behind successful employee engagement. Among these drivers are:
Manager-employee relationship
Leadership
Career development
Brand alignment
Here's what they all have in common with each other:
Brand alignment with marketing messaging, recruitment messaging, and culture that employees are proud of and loyal to.
Leaders who are involved with the direction of the organization, want to improve, and that employees trust.
Managers who are supported by their leadership, and who support their employees.
Career development opportunities, and transparency around them.

Employee Engagement and Career Development: Not a One-Way Street

According to a very well-cited Gallup study, disengaged workers cost the U.S. an estimated $450 billion to $550 billion a year – and worldwide, that quote is worse.

With every article and study published detailing the reported causes of disengagement, most of the leading issues are very human in nature: employees aren't feeling valued, are perceiving few chances to grow and develop, don't see advancement opportunities in the organization. Even concerns about salary and benefits come down to the perceived value of an employee.

And as we noted in our article Brand, Engagement, and Career Development Culture, the line between "work" and "life" are very blurred. No matter the distance we try to put between them, it's natural that we often have a difficult time separating them, and likewise have a difficult time not defining ourselves by our value as an employee - regardless of whether that's a good thing or a bad thing.

Employee engagement is not and cannot be a one-way street. Whether or not you're aware of it, you're defining how your employees perceive their value to your organization with the support you provide them, the practices and direction you expect them to follow, and the culture you expect them to engage with and in. And if you're not aware of it, you may very well be actually resisting employee engagement.

Be sure to take holistic stock of your organization before deciding on a solution to employee disengagement. It's unlikely there's a singular cure-all, but that doesn't meant that you can't take action.

Read the 2014 Career Development Report here.
Learn more about Insala's
Free Webinars
Search By Topic
Insala's Whitepapers