Mentoring and Training- How They Work Together
January 25, 2017
While training classes are widely available for any learning need, they can become costly. The time spent away from the office and various travel expenses, as well as the cost to take the course calls for an immense commitment of both time and money from your organization.
In a poll taken during one of our recent webinars , 66% of attendees stated that they use a combination of mentoring and training in the workplace. Blending both training and mentoring is just one way in which you can decrease your training budget while generating an even better developmental result. [Click to Tweet]
While mentoring can sometimes supplement training, in some cases it can also be effectively substituted for training. If youíre finding that your training budget is too small to get the amount of development your organizationís employees truly need, donít let your training budget limit the growth of your company. Improve your business performance by making sure you evaluate the needs of your organization and consider the beneficial impacts of mentoring, both in conjunction with and in place of formal training classes.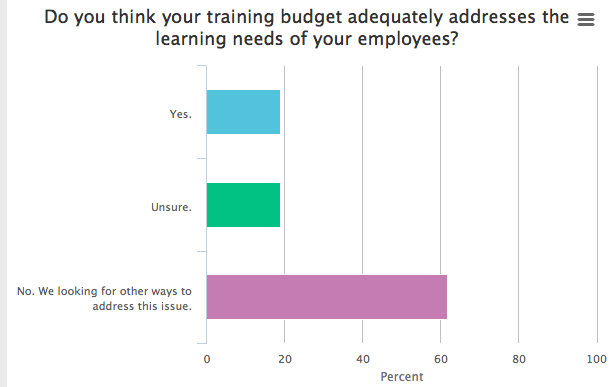 Blending Training with Mentoring
There are cases when it is extremely beneficial to supplement your training with mentoring, as mentoring provides a type of learning that is more specific to the needs and culture of the organization than traditional classroom training can ever be.
Follow these steps to be sure this is the right path for you:
Determine if mentoring is appropriate to supplement the focus of the training course.
Confirm that qualified mentors are available.
Time the mentoring program and partnerships to begin as soon as possible after training ends to promote reinforcement.
Assess the mentee at the end of their training to set specific goals in their mentoring learning plan relative to where they are developmentally.
Assess the mentee again after the partnership to measure the learning that took place.
Substituting Mentoring for Training
Mentoring can also replace formal training programs in the right circumstances Ė but be sure to tie it to business objectives and formalize the process so that it gains respect within your organization.
Follow these steps to successfully implement mentoring within your business structure.
Determine if mentoring is able to achieve desired learning goals and objectives

Communicate to all stakeholders (including mentors, mentees, managers and leadership).

Agree on structure, process and learning goals for the partnerships.

Confirm that qualified mentors are available.

Ensure that mentors and mentees are committed and understand their roles within the partnership

Obtain manager support and understanding of their role in the mentoring partnership

Asses learning at the end of the partnership
In Conclusion: How Can Mentoring Help You?
Mentoring improves your business performance by developing your internal talent, and providing cost effective solutions to help your employees grow and develop. Reduce your training expense and get more out of your budget by:
Evaluating what a structured mentoring program can achieve for your organization

Determining how your organization can roll out mentoring as an effective talent development initiative

Implementing a successful mentoring program based on a strong plan thatís tied to your organizational objectives.
Learn more about Insala's
Free Webinars
Search By Topic
Insala's Whitepapers