Stages of Corporate Alumni Programs
March 21, 2014
Corporate alumni programs vary in terms of multiple things, not least of which include size, organization type, administrative control, and membership type. What really sets apart one corporate alumni program from another, however, are the program's objectives and the organization's intent to follow through with them. That's where other more nuanced differentiators come in to play, such as corporate alumni activities, supporting content, and tools available to engage corporate alumni.
Please note that the following stages we've laid below out are not Insala's best practices. There tends to be a discrepancy between how corporate alumni communities should grow and develop in theory, and how corporate alumni communities actually grow and develop in practice.
1. Corporate alumni programs with no support from the organization
These corporate alumni groups are informal, are founded by employees without any company input, approval, or disapproval, usually for networking purposes. They often use LinkedIn as their platform, or if the members or founders are particularly entrepreneurial, may have taken it to a low cost portal-type infrastructure.
Challenges: Engagement, Reporting, Targeting Communications.
If there isn't regular input from the volunteers who run the corporate alumni group, they often find that there's little activity and engagement among what may be a sizeable database full of possibilities. Additionally, there is often no way to run reports, which means that their ability to target communications or determine program success is at different levels is severely limited.
Characteristics: Scroll down to see table.
2. Corporate alumni programs supported by the organization
These groups usually evolve out of the first stage described above, after it has grown enough that the organization sees a potential return on investing in it. You may see this as "Official XYZ Alumni Group" or something similar on LinkedIn. These groups also serve as a basis for moving to a portal-based program, which allows for more functionality, and greater possibilities of communicating with and engaging alumni.
Challenges: Engagement, Reporting, Targeting Communications, Software Integration, Privacy and Security.
With the loosely defined organizational objectives to begin to structure the corporate alumni program, there's a growing need to obtain more information from members. This means there's an additional need to ensure security and privacy of that data, report on it and make it useful, streamline it with related internal processes, and use it to target communications to alumni more effectively.
Characteristics: Scroll down to see table.
3. Corporate alumni programs funded and managed by the organization
These corporate alumni groups are founded, sponsored, run, and controlled by the company for the purpose of achieving specific objectives. They are overseen by the organization's leadership, and run by full-time managers whose job it is to ensure that the program engages alumni, runs smoothly, and fulfills its set objectives. They are most common among very large organizations, particularly multinationals. The alumni platform can be provided through a vendor or produced internally, but without an in-house developer who is dedicated to the alumni program, an internal platform may not be the right solution.
Challenges: Customization, Security/Privacy Concerns, Software Integration
Characteristics: Scroll down to see table.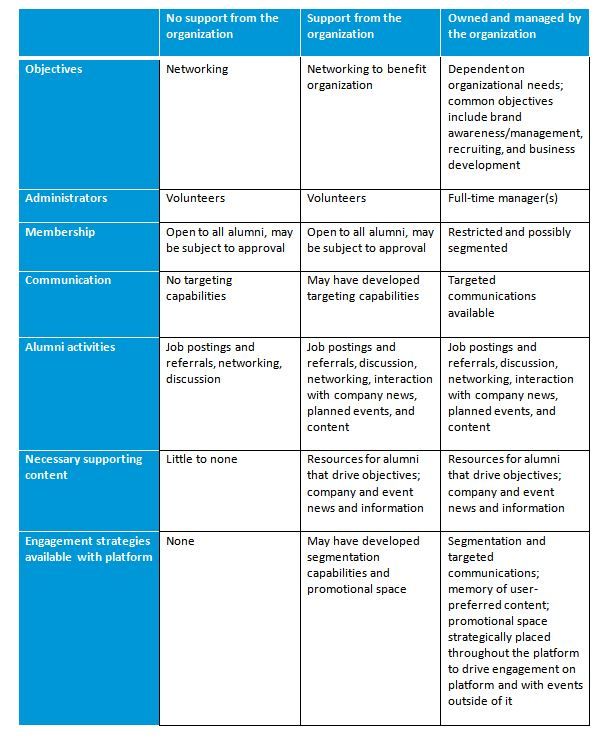 All this being said – if your program objectives don't require much support to be fulfilled, it may be that you don't need a particularly robust platform. If all you'll ever want to do is provide a space for networking for all alumni of your organization, LinkedIn may be the best solution for you.
However, if leveraging your existing alumni base for organizational objectives is a priority, or is becoming a priority, it may be time to move your program to the next level. There are, of course, any number of LinkedIn alumni groups with 10,000 members – but that doesn't mean they're successfully leveraging those 10,000 members' talent or networks. Could they? Yes. Absolutely. But is it part of their business strategy?
The more pertinent question is, is it part of yours?
Learn more about Insala's
Free Webinars
Search By Topic
Insala's Whitepapers